If you have a garden and a library, you have everything you need.     -Cicero
Hello Gardeners!
Seed Library Basics
What is a seed library?  A seed library loans seeds to gardeners.  Gardeners borrow seeds from the library to grow in their garden.  At the end of the season, they save seeds from the mature plants and return some to the seed library.  We hope that patrons will save seeds from plants they grow and donate some back to the seed library to help build the collection. 
There is no pressure to return any seeds.  We just ask that you enjoy the growing experience and return seeds if you are successful.  If you want to learn about the seed saving process the library has resources to share.
Seed Library borrowing instructions:
No library card necessary!

Fill out a membership form the first time you borrow seeds and turn in at circulation desk.

Seed packets are free.  Limit 10 seed packets per visit.  Please take only one packet per variety each visit.

For growing instructions and seed details - take a photo of the laminated seed packet with your phone.  Refer to this information when donating saved seed.

Seeds available while supplies last.
Seed donations
If you would like to donate seeds, whether saved or purchased, the library will gladly accept open-pollinated and heirloom varieties.  Bring your clean, dry, labeled seeds to the library and fill out the donation form provided and put them in the seed donation box.
The seed library is starting out with generous donations from these seed providers: 
2023 
'One Seed One State'
Michigan Seed Libraries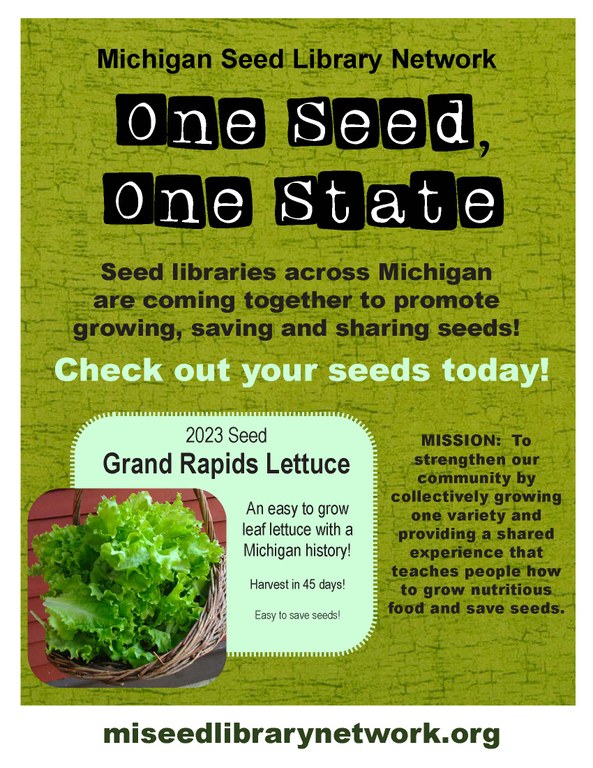 'Grand Rapids' lettuce is the featured seed for 2023.